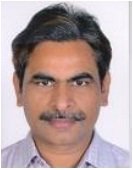 Director: Prof. Geetam Singh Tomar
Prof. Geetam Singh Tomar is a Director of THDC Institute of Hydropower Engineering and Technology, Tehri. He received his UG, PG, and PhD degrees in Electronics Engineering from Institution of Engineers Calcutta, MNREC Allahabad and RGPV Bhopal respectively. He Post-doc from University of Kent, UK in Computer Engineering. He worked with MITS and IIITM Gwalior, University of Kent UK. University of West Indies, Trinidad and Tobago.

He also served as Director in 3 private colleges along with additional charge of the Director of Machine Intelligence Research Labs, Gwalior, India. He served in Indian Air Force for 17 Years. His research interests are Digital Systems, Air Interface and Advanced communication networks. He has many sponsored research projects to his credit. He has been guest faculty at Thapar University Patiala, Hannam University Korea, and many other universities of International repute. He received International Plato award for academic excellence in 2009 from IBC Cambridge UK. He has been cited in who's who in the world for 2008, 2009 and 2010 continuously. He has published more than 180 research papers and 02 patents. He is chief editor of 5 International Journals and has written 09 books and 08 Book chapters. Organised many IEEE conferences and delivered Keynote lectures at many IEEE conference in various countries.
Administration Officers Contact Details
S.NO
Responsibilities
Faculty Members
Contact No
E-mail
1
Director
Prof. G. S. Tomar
01376-235432 (Off)
thdcihet001@gmail.com
2
Dy. Registrar/Finance Advisor
Mr. D. K. Koley
01376-236633 (Off
........
3
Dy. Controller of Examination
Mr. Ashish Joshi
-------
exam.thdcihet@gmail.com

a.joshicse1986@gmail.com
4
Proctorial Committee Coordinator
Mr. Praful Ranjan
01376-235979 (Off)
prf98354@rediffmail.com